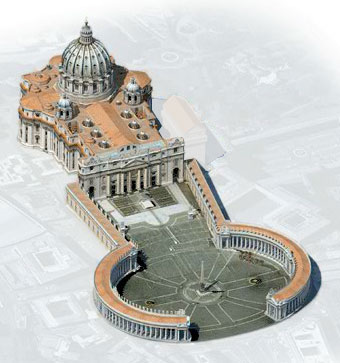 The name and fame of the newpaper "El País" are well and universally known: its important brand represents Spain in the world.
So I felt a great pleasure to see, on the occasion of the recent election of the Roman Pope,
my 3D model of the Basilica of St. Peter's Square and Bernini's Colonnade published on El País
(see the picture on the right)
.
My original model (
created and uploaded into 3D Warehouse at the end of 2010
) stands in the "cover" of the graphic artwork, and is repeated in eight of the thirteen interior views that describe the various steps involved in the election of the Supreme Pontiff
(see the pictures below)
.
Saint Peter
is a model that I particularly like and with whic I spent many weeks two and more years ago: weeks of research, study and passion to find the most effective and efficient representations, and try to reproduce - in a few megabytes - the admirable geometry and displacement of columns and pillars, the perfection of the domes, the tones and the colors of the marble... A work of continuous improvement following a challenge with myself and also with my Roman friend, expert on St Peter's story and events, which never ceased to stimulate me to do better!
So, I was saying, I immediately recognized my "creature" and I felt joy, but...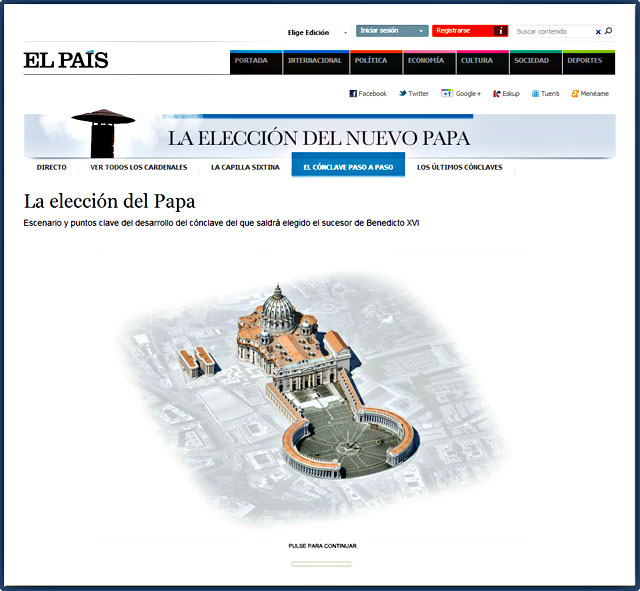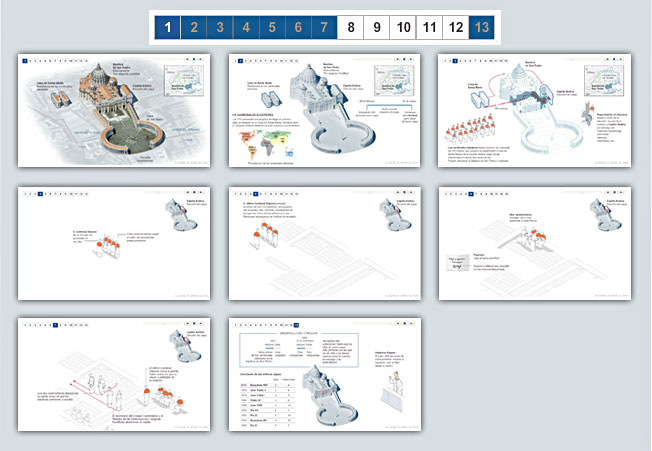 ...my disappointment was great when, carefully examining all the pages of the graphic work, I could not find mention of the model and of its author. Yet the images of St. Peter in the "El País" artwork ARE NOT "sketched" BUT THEY ARE JUST VIEWS of my 3D model - and this "beyond any reasonable doubt", as unequivocally demonstrated the distinguished colleague
Alejandro Soriano (whom I warmly thank)
in the
very interesting and well documented post
recently published on his blog
"Espacio Modular"
.
So I took pen and paper and sent an email to "El País" - I like that, as hopes also the friend Alejandro, the editors of that newspaper at least will quote the source and the author of the 3D model!
Web resource referenced
-
artwork of "El País" about the Pope
-
post of Alejandro Soriano
-
my St Peter's model at Trimble 3D Warehouse
.