Our Old Models Now Very Slim
Who said there is no more space for our older models 3D Warehouse?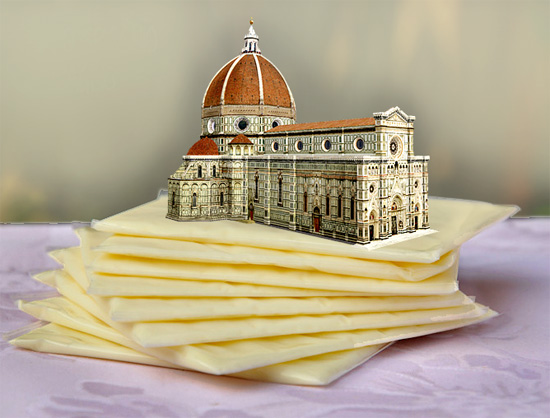 The New Version of Google Maps, in trial in this period (June 2013), has another space for our models, although...
Enrico Dalbosco (Arrigo Silva) - Padova, June 5, 2013
AUTO-GENERATED 3D MODELS
APPENDIX C
OUR OLD MODELS NOW VERY SLIM
© Enrico Dalbosco (Arrigo Silva) April-June 2013
Last update: June 5, 2013
Index of contents
PART 1 - ENVIRONMENT
PART 2 - A VISUAL CONFRONTATION
PART 3 - CEZANNE'S LESSON
PART 4 - [... work in process ...]
Appendix A - ABOUT ST. JOHN AUTO-GENERATED
Appendix B - [... work in process ...]
Appendix C - OUR OLD MODELS NOW VERY SLIM <== Current Post
APPENDIX C - OUR OLD MODELS NOW VERY SLIM
Today I used for the first time the new version of Google Maps - to enter the new environment I had to make a request, then I received a pass via email, and finally I have been able to start navigating in the new environment.
I reproduce below the warning that appears in the help of the new version of Google Map:
"Request an invite
This new Google Maps experience is currently only available as a limited preview. If you want to join, request an invite. When it's available for you, you'll receive an email:
1. Open the email and click the Request an invite button.
2. On the landing page, join the new maps experience by clicking Get Google Maps Preview.
Note: While the new Google Maps will be rolling out soon across the world, it may not currently be available in your country."

I began by exploring the New Version
in MAP mode
...
First I went to St. Peter's Square in Rome, since I harbor a great affection for the Basilica and the Colonnade... I found out some interesting news, I visited some very interesting photo galleries, I saw the tourist signs etc.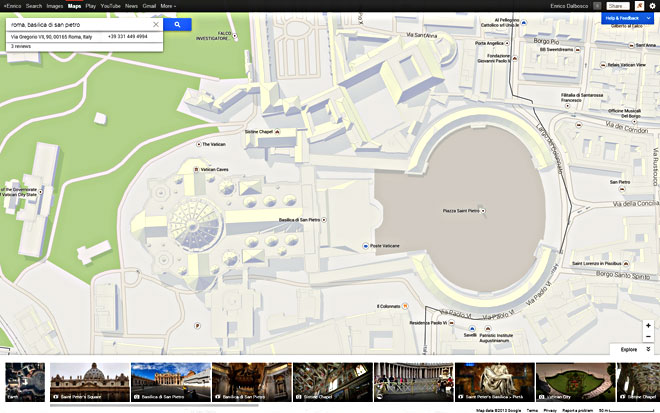 Saint Peter's Square in The New Version of Google Maps (trial version at June 5, 2013)
My first impression? Good, I felt it comfortable, the look is very nice, the new maps are of the highest quality, comparable to those of most professional tour guides. Indeed, on closer inspection, I noticed the colors "pastel" very nice (for example, the green of the Vatican gardens) , and I also saw that some blocks and especially the palaces and the Basilica were sketched really well!
Then I looked more closely, and I discovered that there were not drawings, but 3D Models, in
Monochrome View
(idest without textures) - yes! effective 3D Models, but
very very slim
, seen "from very high" with a powerful telephoto lens.
Of course I immediately recognized as my work the model of the Basilica and the Colonnade - and how I could not recognize it, since I have spent several weeks - in the year of our Lord 2009 - to carry out that challenging work?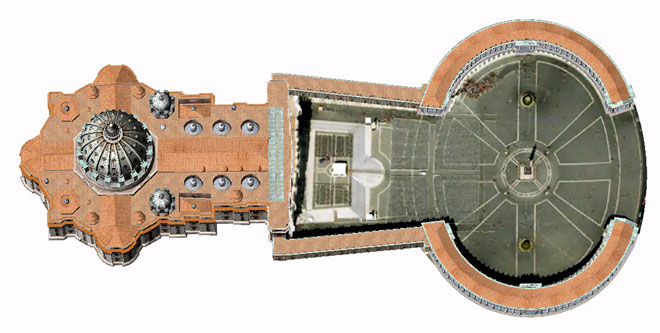 My model of
Saint Peter's Basilica with the Bernini's Colonnade
uploaded in 3D Warehouse (and also described in some articles of this blog)
The following illustrations show some details of my 3D model monochrome, used as a "embossed" map of St. Peter's Basilica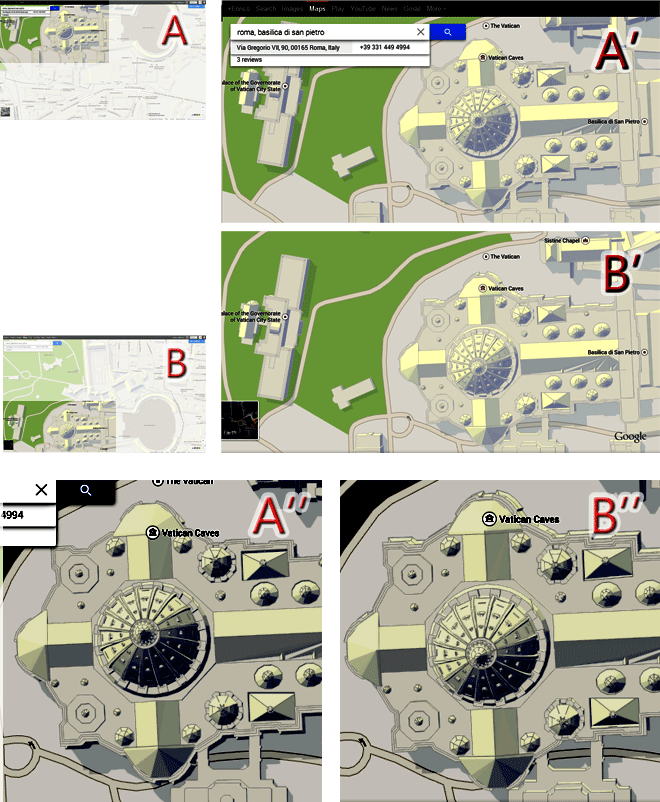 The images A'' and'' B (obtained by moving the model in different areas of the window) highlight the "thickness" of what appears, at first glance, a simple map drawn - while it is a real monochrome 3D Model.

In the same way I've found other my
slim
models in Florence's Piazza Duomo etc.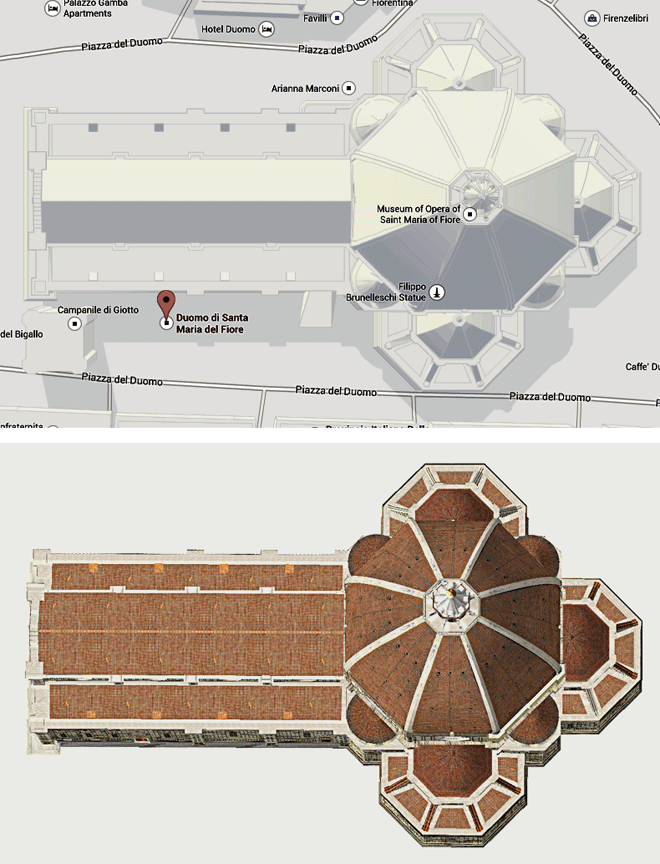 Above: my model of the Florence's Duomo as it appears - in "slim monochrome format" - in the new version of Google Map - Below: the same model in
the complete textured version
we can see in the Trimble 3D Warehouse


Concluding remarks:


From what I have shown above it is clear that Google Maps uses even now, albeit on an experimental basis, some models to get the 3D maps subtly three-dimensional
The result seems to me very interesting and professional, and I am proud that some of my models "can still serve to something" in Google Maps!
It would be interesting to know how many and which models have been and will be used for the same purpose, and what criteria have been and will be taken to choose such models
It would be appropriate that Google to recognize, in some way, the fatherhood of the models used - maybe putting a link to the model used or, even better, allowing the users to view and examine in 3D mode the entire model

If the good day starts in the morning...



.