...Myself, My Friends Quijote and Sancho (A Strange Couple) And... My Blog
My real name is Enrico Dalbosco. Born in Rovereto (Italy) in 1946, I'm living in the Po valley, near Padua and Venice, with my wife Luciana and our son Cesare and a variable number of animals.
Many times I think I would have liked to be a Knight Errant, or maybe a Hermit, perhaps with the high-sounding Spanish-like name of Arrigo Silva... but then I regret it, because I could not play the piano and use SketchUp to build the beloved 3d models!
some of the models that will be presented and discussed in this blog

Saint Basil, Moscow

Saint Anthony, Padua

Duomo, Florence
Consequently I love Don Quijote,
The Knight Errant
, with all his desperate missions, his high aspirations, his ideals, his rambling challenges...

That's why I like Don Quijote! But what about Sancho Panza?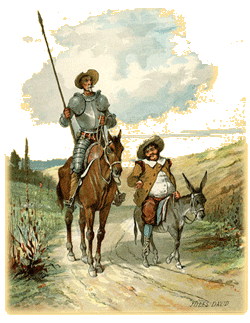 Thomas Alva Edison said: "
Work
is 1% inspiration plus 99% perspiration".
Don Quijote
is
The Inspiration
(1%).
Sancho Panza
, pictured here next to his Master in a fine painting taken from the website
www.cervantesvirtual.com
, is
The Perspiration
, the fundamental 99% - and then he's much more sympathetic and has a lot more common sense than his absent-minded owner!
A nice couple, who has come a long way - with a horse, with a donkey and, when necessary, on foot...

As you might have already guessed, the theme of my blog is the 3D modeling, namely the modeling of Churches, Monuments, and more ... using
SketchUp
, the powerful tool distributed by Trimble also in a version absolutely free!
And I would then tell you my experiences with my models uploaded to Google 3D Warehouse and accepted (until the 2012) from Google to the '3D Buildings' layer of Google Earth, and also share with you tips and tricks about using modeling techniques and SketchUp.
Enrico Dalbosco (Arrigo Silva)
enrico_dalbosco@tin.it